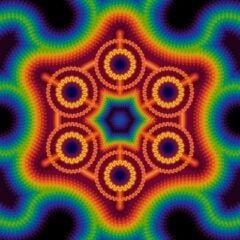 Transform Press is very fortunate to be working with a talented, dedicated artist and graphic designer named Vibrata Chromodoris. Vibrata brings a unique skill set, vision, and familiarity with the psychedelic community that is a perfect fit for our mission to preserve and publish the Shulgins' legacy of research and to inspire societal transformation. We hope that by sharing the following interview with Vibrata you will join in our excitement and enthusiasm for her contributions to our enterprise.

Wendy: Hi, Vibrata. Thanks for joining us. Can you please explain your role at Transform Press?
Vibrata: Yes. Thank you, Wendy. First, I designed the Transform Press website. And I am currently typesetting and designing the covers for the special memorial edition of PiHKAL and TiHKAL.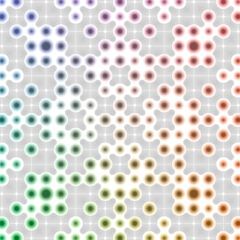 Q: Do you have any personal or professional background or interest that you want to share about why this work is so exciting for you?
A: Graphic design is a career that I deeply love, but I'm a fine artist by vocation, and for the past 19 years or so I've been working as a visionary artist. That is, I express the ineffable in my work, sometimes recreating or at least being inspired by non-ordinary states of consciousness. For many years, experimenting with mind-altering chemical or plant-based substances has been part of my creative practice. It has permanently shifted my awareness and what I tune into when I create art.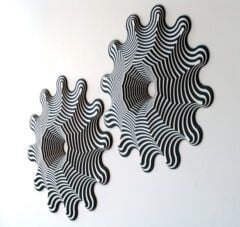 Q: Do you have a personal design style or philosophy?
A: Pattern and geometry are like a language to me. My digital work is vector-based. I use Adobe Illustrator to create precise symmetrical forms and repeat them—sometimes an absurd number of times—until I get a field or matrix of vibrating energy.
Q: What makes your work different from other artists and why is your style/philosophy such a great fit for Transform Press?
A: I like to say that the work I do is "math-y" because so much of it involves geometric relationships and symmetry, but I'm also inspired by more heady stuff like quantum physics and neuroscience. I can read a book about string theory and get dynamic visions of how energy behaves. Logic and science are integral to how I enjoy the world. I don't need to believe in fairies and magic to feel a sense of wonder and awe.

Q: What are your goals for your work at Transform Press? In other words, what do you hope to achieve with your design work?
A: When I'm doing graphic design, my goal is always the same: to present information in an elegant, clean, organized way that dignifies the content.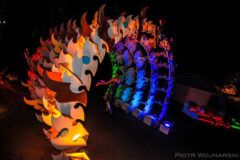 Q: Is there any additional professional background (projects, achievements, etc.) that you can share that may be relevant or of interest to Transform Press readers?
A: Absolutely. Here's a brief summary of some of my proudest achievements. I am a 13-time veteran of the
Burning Man
festival, held every year in Nevada, participating with my own art installations. This has included contributing to the Connexus Cathedral and Entheon Village in 2006, the Institute in 2011 and 2012, and Nexus in 2013. As a lecturer and presenter, I was featured at the Palace of Fine Arts in San Francisco for the
Mind States
conference, at the
CoSM (Chapel of Sacred Mirrors) gallery
in New York City in 2005, and
Bicycle Day
in San Francisco in 2012. My work has been featured in publications such as the
Entheogen Review
, the
CoSM Journal of Visionary Culture
, and the
ElfintomeVisionary Arts Collective Catalogues
.

Q: How exciting to have worked with the Chapel of Sacred Mirrors! So many people in the psychedelic community have been inspired by the visionary art of Alex and Allyson Grey. Did you get to work with them personally? What was that like?
A: I've been in Alex and Allyson Grey's orbits for many years and have collaborated with Allyson on a couple of paintings. I've been a guest artist at their painting intensive up at CoSM, spoken on a couple of panels they hosted, like for Bicycle Day, and participated in a number of fundraisers. They're very dear friends, and I consider them mentors and peers.
Q: What about the Shulgins themselves? How have they inspired you?
A: The Shulgins are an example of what I love about Americans (I'm Canadian.) In spite of living under such a conservative government, they just went ahead and followed their passion for exploration and furthering knowledge, and all in such close partnership. To me, they represent non-conformity at its finest. These amazing people were way ahead of their time, and spearheaded the formation of an entire underground culture, completely without ego and without even realizing or intending it. And then they didn't even conform to that! But mostly, on a personal level, I cherish them as elders who teach by example in the way they worked and played together. They continue to show us how curiosity and courage can keep us living joyfully throughout life.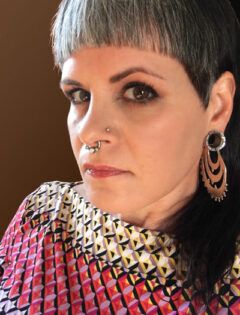 Q: Are there any additional online sources that you can recommend to people who are interested in learning more about you and your work?
A: I would recommend three sources. First, check out my personal website. You can also visit my Facebook fan page, and you can follow me on Twitter.
Views 5,301