PRESS RELEASE AND MEDIA AVAILABILITY
16 November 2017
For immediate release: November 17, 2017
Contact: Craig Noble, (415) 601-8235, craig@craignoble.net
AUTHOR DRAWS ON THREE DECADES OF EXPERIENCE TO OFFER PRACTICAL HOW-TO GUIDE FOR PSYCHOTHERAPISTS AND PATIENTS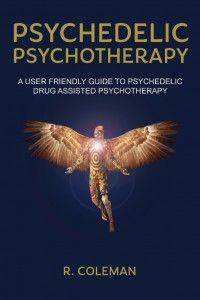 Psychedelic Psychotherapy: A User-friendly Guide for Psychedelic Drug-assisted Psychotherapy by R. Coleman. Transform Press, 2017. 153 pages. Paperback. $32.50. ISBN-13: 978-0-9630096-5-4.
November 17, 2017 (Lafayette, California)—Coming on the heels of the FDA's recent decision to grant Breakthrough Therapy Designation for MDMA for the treatment of post-traumatic stress disorder (PTSD), a new book, Psychedelic Psychotherapy: A User-friendly Guide for Psychedelic Drug-assisted Psychotherapy, by R. Coleman offers a heartfelt, clearly-written, practical, and easy-to-understand guide for psychedelic drug-assisted psychotherapy. The author's groundbreaking book, drawing on his three decades of underground practice using the government suppressed drugs MDMA ("ecstasy"), LSD, psilocybin ("magic mushrooms"), and marijuana—focuses not on theory or politics, but on actually doing therapeutic journeywork, promising relief for millions who haven't benefited from conventional therapies.
According to the nonprofit group PTSD United, about 8 percent of Americans or 24.4 million people have PTSD at any given time. It's also well documented that millions of Americans suffer from depression and anxiety disorders and thousands commit suicide every year. Clearly there's a need for information about innovative treatments that really work.
"This book calls out to those who seek true healing and personal growth. It offers hope for suffering people who have found little help from mainstream therapies or prescription medications," says Coleman.
Since media coverage of psychedelics and healing has become widespread, public interest is growing. Organizations like the Multidisciplinary Association for Psychedelic Studies (MAPS) are diligently working towards a future in which psychedelic therapy will be legal. There is an increasing demand for qualified practitioners who can facilitate psychedelic healing sessions, but a lack of practical information to guide them. Coleman foresees Psychedelic Psychotherapy helping to fill this void for years to come. For example, even with the FDA's recent decision, it could be years before MDMA is legal as a prescription drug; phase 3 clinical trials may not be completed until 2021.
In his introduction Coleman writes, "The use of psychedelics [such as psilocybin mushrooms, peyote, ibogaine, and ayahuasca] for healing is a practice thousands of years old, and is well-documented in indigenous cultures all over the world. … Courageous therapists and guides willing to risk working outside the law found that psychedelics [including manmade chemicals like MDMA and LSD] allowed them to help people who had not responded to conventional treatment." He also tells his own story, in which he worked with a therapist who recommended using MDMA to get "unstuck." Coleman writes, "From the very first session, I began making amazing breakthroughs. … Hidden sources of my chronic illness, anxiety, and depression were revealed."
Coleman argues that psychedelic psychotherapy works by helping patients or "journeyers" recall past trauma, feel it, and discharge it. Once this happens, the patient is forever free of the pain and trauma. "[Psychedelics] give us an objective look from outside our ordinary thinking, which lays bare the lies we tell ourselves, the things we run from, and the parts of ourselves we don't want to look at. In the safe and sympathetic presence of a sitter, it is liberating to see these truths."
After dedicating a chapter to the uses for, qualities of, and suggested dosages of MDMA, LSD, psilocybin, and marijuana, Coleman methodically offers chapters containing guidelines for professional psychotherapists, non-professional guides (sitters), and journeyers (patients) alike. Coleman recognizes that many patients choose to work with non-professional sitters instead of professional psychotherapists. That is why he included the chapter on guidelines for sitters. "These medicines can bring about powerful healing when used properly in a therapeutic setting. The guidelines for sitters are intended to prevent naive, uninformed sitters from hurting, rather than helping, journeyers."
The other chapters deal with psychological phenomena that journeyers may experience, as well as guidelines for integrating the journey into everyday life. These chapters are: "Restoring Sanity with the Peak Experience," "Embracing the Shadow," "Resourcing," "Beyond the Ego," "After the Journey," "Useful Techniques," "Supplemental Practices that Support Journeywork," and "Journey Stories."
Readers of Psychedelic Psychotherapy are expected to include those interested in psychology, self-help, psychedelics, and the places where these topics intersect. Psychedelic Psychotherapy can be purchased on the Transform Press website for $32.50. To request a review copy or to arrange an interview with R. Coleman, please contact Craig Noble at (415) 601-8235 or
Transform Press is a niche publishing house specializing in works on psychopharmacology, psychedelic drug research, and other material relating to psychoactive compounds, society, states of consciousness, and the individual. Transform Press was founded in 1991 by renowned biochemist Alexander "Sasha" Shulgin and his wife Ann Shulgin, to publish their now cult classic, PiHKAL: A Chemical Love Story. One of the drugs they wrote about is MDMA, the psychoactive properties of which were discovered by Sasha Shulgin. The Shulgin's intention to voice and share material on the nature of drugs, without censorship, remains the guiding spirit of Transform Press. Visit us at transformpress.com; follow us on Twitter (@transformpress) and Facebook (https://www.facebook.com/transformpress/)