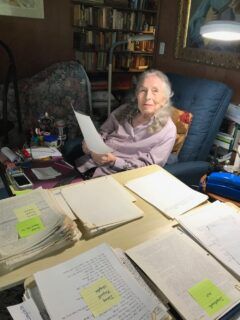 It's Ann's birthday today!

I'm very happy to announce that my mother Ann is doing really well. In fact, as you can see in the photo (taken by Tania Manning), she is creating new material to publish a third volume in the PiHKAL and TiHKAL series. She kept very busy during the difficult, yearlong Covid-19 lockdown, going through old files of long-forgotten pieces that she wrote years ago, as well as other pieces of Sasha's writing. We don't know what the new book will be called yet, as it has a long way to go before it's ready for publication. Nonetheless, it's been wonderful to gather these untold stories and put them all together.
Ann also has been working on a book due out next year, which is a compilation of letters between her and Sasha, and Myron and Jean Stolaroff. It will be a very up-close and personal look at the experiences and insights of these two couples who were very dear friends.
We are especially grateful that during the pandemic Ann has been in the good hands of her caretakers, Detchen and Chime, as well as her good friends and right-hand people, Tania and Greg. My brother Brian has been out to the farm quite a bit, and we (Jason, Audrey, and I) have also been able to visit. Despite the aches and pains that come with age, Ann keeps her spirits up and teaches those of us around her how to manage their discomforts with grace.
Happy Birthday Ann! We love you and are so happy that you're still with us and intend to be for a long time more.